Guitar parts Adjustable Tension System Tremolo Block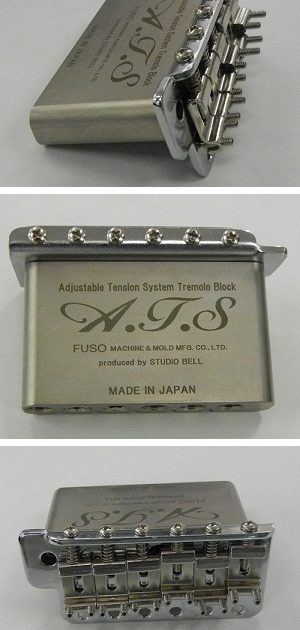 The technology of steel processing cultivated for years was used, and completely new tremolo Brock was manufactured.
PAT. Pending 2011-221333
STUDIO BELL Original parts
A New Revolution for Tremolo Block

ATS Tremolo Block allows you to adjust the tension setting for individual strings.
Individually adjustable nuts can be used with all different kinds of tunings and string gauges, and very useful for drop tuning and open tuning as well.
Genuine Material and Precision for Professional Use

The precision of the product is important for fine adjustment.
All the parts are manufactured at Gifu Fuso Seiko Co., Ltd. who has been manufacturing moulds and dies for over 63years.
This masterpiece with perfect accuracy is the result of the craftsmanship and hard work.
The handcrafted solid steel with the quality, the profoundness and the durability delivers thick rich tone with clear, singing harmonics and long sustain.
THE "made in japan"

There are many ways to use ATS…
Adjusting the unequal string tension when you open-tune your guitar.
Loosen the tension on 1st and 2nd strings a hair to make it easier to bend and also by loosening the tension on 6th string to play pick harmonics easier.
ATS enables you to control the string tension in your own style.
"The little something extra" with the artisan spirit.
When ATS is set in a Stratocaster, it plays an active role inside of the body without being noticed nor losing the look of it.
ATS is made in Japan with the heart of the Japanese craftsmanship.